Quality Award 2014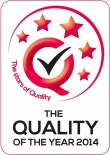 Quality Award 2014
JONIEC company has received the Quality Award 2014.
We are pleased to inform that our company has received for the Quality Award 2014.
The Quality Award title is awarded in the competition recognized in Poland as very prestigious. Winners are successful, growing companies with a strong market position.
Additionaly, this year JONIEC company was awarded the title Quality Award Bronze.