BUSINESS LEADER 2014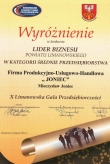 BUSINESS LEADER 2014
JONIEC company has been honoured in a competition BUSINESS LEADER of Limanowa district
Company JONIEC has been honoured in a competition BUSINESS LEADER of Limanowa district in a category Medium Enterprises. During the X edition of the Entrepreneurship Gala the owner of the company Mieczysław Joniec received the award. BUSINESS LEADER is a special distinction, which has been highlighting entrepreneurs who offer highest quality goods and service, solidly and honestly pay taxes as well as help to increase employment and support local communities for the last 10 years. The aim of the program is to create a positive image of a company , which apart from its own development, remembers about local communities and engages in local ventures. The aim of this Celebration of Limanowa Entrepreneurship, which takes place each November, is to emphasize the role and importance of companies, which operate in the region and have influence on economic development of the Limanowa district.
Special guests of the X Entrepreneurship Gala were: European Commissioner Elżbieta Bieńkowska, Minister of Labour and Social Policy Władysław Kosiniak Kamysz, Senator Stanisław Hodorowicz, Voivode of Małopolska Jerzy Miller, Marshal of the Małopolska Voivodeship Marek Sowa – these are only a few of many prominent guests present in Limanowa on 14th November 2014 to celebrate the successes of local companies together with the organizers and local entrepreneurs.
The organizer of the Limanowa Gala of Entrepreneurship is the Limanowa District Governor's Office, Regional Association of Entrepreneurs and the District Labour Office.